TAIM has been engineering and developing machinery for solid, liquid and sterile dose pharmaceutical processing
TAIM is headquartered in Atessa, Italy. Founded in 1987, it is a family-owned portfolio company which today combines businesses in the pharmaceutical, cosmetical and food industry sectors.
With technical expertise, a commitment to excellence and a focus on innovation and keeping our proposals up to date always, we are constantly striving to improve our performances in any field we
are operating.
HIGH QUALITY TACTICAL SOLUTIONS
Finding a permanent solution for your pharmaceutical production is our ultimate goal!
Integrated Process Solutions – that is our philosophy
TAIM designs and realizes machinery for pharmaceutical industry.
From formulation and powder synthesis to granulation, coating, liquid and sterile dosage production, right up to the seamless turn-key solutions in entire plants, with our services and innovative technologies, we always keep the big picture.
In the specific, for the preparation of liquid pharmaceutical forms, our production centers on different types of Mixers and Dissolvers, with specific characteristics for each process. In the production of sterile pharmaceutical forms, we are present with the line of Sterile Reactors with productive capacity from 10 laboratory litres until 20.000 litres, in conformity with the norm PED in force. In the preparation of solid pharmaceutical forms, we are present with our Mixers at Y, Double Cone, Double Screw Mixer, as also the Tumbler Bin. Our principal process machines in the solid dose field are furthermore the oscillating and rotating granulators High Shear Mixer, our Drum Coating machines and Taim's Fluid Bed Dryer and Granulator.
In the same way we cure the whole aspect of handling of powders starting from the IBC, completed with manual or automatic stations of discharge. The complete line endorses also from washing CIP until totally Automatic Washing Cabins. Furthermore, the machinery for handling of powders
includes different types of Lifting and Rotating Columns.
Our high standard policy, implied in every milestone of our projects, from commercial commitment, to design and production, assures up-to-date and high-quality solutions. We create high-quality solutions for our clients and strengthen their long-term competitiveness by combining unique material expertise with know-how in technology.
We are a private company that operates with integrity. Our Board of Directors ensures good governance, strategic discipline and effective risk oversight. With internal and external representation, the Board is comprised of accomplished leaders with varied backgrounds.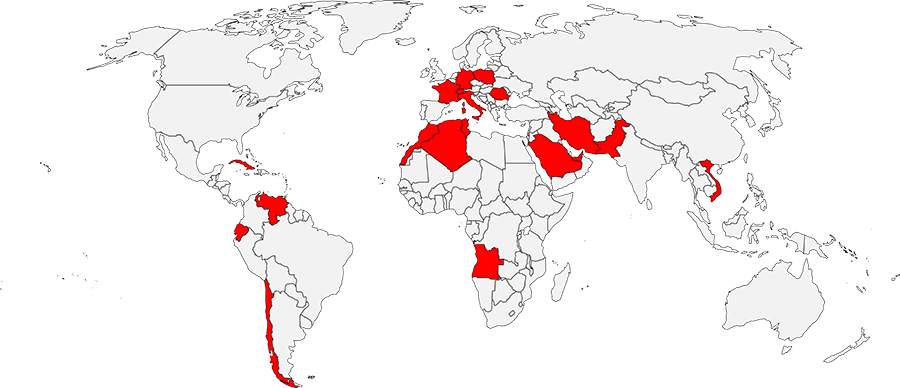 Our Machines are operating in Africa, America, Asia and in Europe
Algeria, Angola, Cile, Cuba, Ecuador, France, Germany, Iran, Italy, Morocco, Pakistan, Poland, Romania, Saudi Arabia, Switzerland, Tunisia, United Arab Emirates, Venezuela, Vietnam.
We would love to add your country on our list too, give us the possibility!
Numbers speak for themselves
Quality comes first! We make sure that every minute detail is looked into while manufacturing even the smallest product. Our focus is 100% on client needs and satisfaction.
We conceive, design and manufacture production equipment for the processing of all types of pharmaceutical dosage forms, delivering reliable machinery with flexible concepting and respecting all requirements in terms of quality standards and CGMP regulations, to the benefit of all producers
of medicines.
We strive to serve the pharmaceutical industry by continuously delivering safe and up-to-date production machinery, complying to a high quality standard so to ensure long lasting resistance and to stand up to a high quality reputation in the pharmaceutical markets we provide all over the world, now and in the future.
We are the creators you can trust on for a perfect solution to all your needs.
So take advantage of our expertise in pharmaceutical process technology to make your business a success!